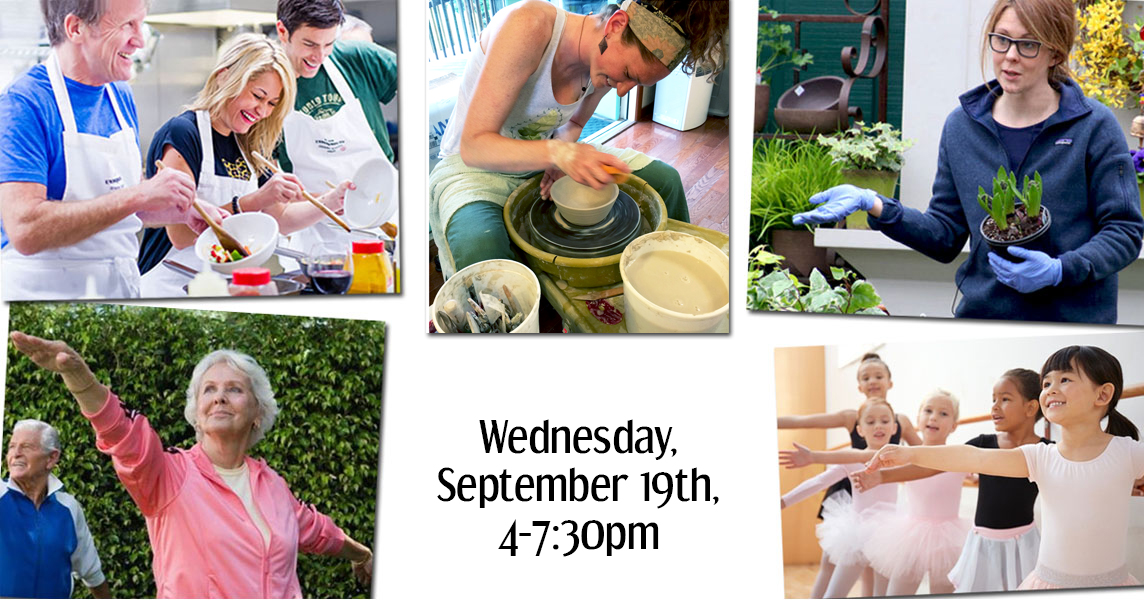 Come to Learnapalooza!
.
Instructors and educational organizations, we invite you to take part in Learnapalooza!
Are your classes listed on LEARN Sonoma County? There's never been a better time than right now, as we kick off a new season of learning and promote Learnapalooza far and wide – so don't delay. Click to List your class(es) now.
Sonoma West Times and News is featuring an article about Learnapalooza on Sept. 13th!
Participate in Learnapalooza and:
*Introduce people to your programs and classes.
*Provide demonstrations, show samples, and/or do hands-on activities. (In addition to a large area for tabling , there's a stage, a large kitchen, and outdoor space is also available)
*Sign up students for your classes and collect contacts for your mailing list.
*Pay $25 for event advertising and agree to help promote the event.
*Get lots of exposure for your classes, plus three free class listings on LEARN, and be listed on Learnapalooza promotional materials.
Participants include Alliance Française De Santa Rosa, Botanical Dimensions, Chef Matt Roberts, Daily Acts, En Garde Fencing, Fiber Circle Studio, Healdsburg SHED, Inks in Motion/artist Rhea Schnurman, Osher Lifelong Learning Institute (OLLI), Author/Chef Michelle Anna Jordan, North Coast SCORE, Roberta Ryan, Ryan Business Design Sally's Parlor, Sebastopol Community Cultural Center, SoCo Aerial Collective, Sonoma Community Center, The Beverage People, The Farmers Guild, Yarnitudes, and more!
We'd love to have you there!
Learnapalooza, Wednesday, Sept. 19, 4-7:30pm
Sebastopol Grange, 6000 Sebastopol Ave – Hwy 12, Sebastopol
To sign up:
Email Deborah [at] northbaylearningsource.com with:
*your name and the name of your organization
*what you'll be showing/doing
*anything we need to know about what you need or any questions or suggestions you have
*how you will help promote the event (announcing it in your newsletter and on your website would be great!)
Your registration is complete when you have received a confirmation reply to your email.
Make sure your classes are listed on LEARN!
2 Please pay your registration fee  below.